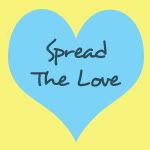 So over at

Oh, My Darling

,

Melissa has been having a Spread the Love week.
Please visit her blog and read her posts to see what she is doing day to day to meet her daily goals to share love. She also wrote
a fabulous and touching post
about how it all started.
I had to really think bout it. While I'm definitely not always good about holding onto this intention, I do try to bring this goal into my life as often as possible. I honestly do believe in the concept that it "takes a village;" I also believe in the chaos theory and Walt Whitman's poetry that explains how every interaction we have with someone or something, no matter how brief, will effect that person or thing and ourselves profoundly (even if we don't realize just how profound it is). The quotation "Be kind, for everyone you meet is fighting a hard battle." from Plato has always struck me to the core. Even those individuals who seem to have the "perfect" life and have it all pulled together still have their own battles we know nothing about. As an individual with invisible illnesses, I am often reminded of this.
So what do I do to integrate these ideals into my daily living?
First and foremost is

self care and showing love to myself

. It is so easy to think of this as selfish, but if I don't love myself, the love I give to others isn't truly genuine. So I take long baths, make healthy meals, have cups of tea, find time to make art, and find time to exercise. I chase my dreams and work hard to make them realities; because these are as important as the air I breathe.

Then, its time for

big big loving to my spouse

(or whoever you live with whether they be just roommates, parents, spouses, or kids, or a mixture) because he is the one who puts up with me through all the ups and downs and shows me love regardless. I leave love notes in my husbands work shirt pockets for him to find, I pack his lunches and make his favorite meals, I text call and email him simple "I love you"s, I write with lipstick or eyeliner on the mirror, I leave notes on the counter, I make time in my day to

Just Be

together, and I keep a gratitude journal all about how amazing he is that I share with him on the days he is down on himself.

And of course, the other people I see all the time -

my classmates and my coworkers.

I bring in cards or little gifts to those I know are having a tough time. Sometimes I bring in baked goods to share. I try to be helpful by sharing notes or whatever else. Overall though, this is an area that I need to bring more intention too. So often this is the group I feel I'm least supportive of - which shouldn't be the case since I am often more aware of the struggles they are facing, so this is a good place to set a goal in.

While I'm at it, might as well

share love with everyone I meet

, right?! Eye contact and smiles can be given to just about everyone. Its nice to be seen, and it shows in their responses. Holding doors open, asking people who appear to be struggling if they need assistance, and asking cashiers how their day is. Easy peasy ways to spread the love.

Letters

. Personal mail is an amazing uplifter. letters to friends, penpals, nieces, nephews, siblings, and my mom (who all appreciate the love but maybe don't depend on it as much)
to my grandparents who are ill.
my grandmother-in-law (who I've never met, but I adore) who is lonely


and a past client of mine who checked his mailbox almost every day but hardly ever got a letter (I know some people might think that is blurring the boundaries line, but I think it is a great intervention. he hasn't been suicidal in two years, he used to go into crisis at least 2 times a year. While I can't claim that it is because of my letters, I do think that it helps to not feel so alone).

Thank you notes.

Much like letters, but can also be given to strangers. I try to thank those who inspire me, encourage me, and/or have done something for me. Thank you letters to past co-workers, and past supervisors. to the classmates that inspire me. to the "big names" in my field that inspire me. to the neighbor with the beautiful garden that I have admired every day for the whole spring and summer seasons. to the solider that I've never met but is serving for my rights and my safety.

Lavender Salt Scrub

. A soothing soak in the bath with a great scrub is relaxing for the body, mind, and soul. This is a simple and affordable home made gift that is one of my favorite things and is a great reminder of self-care to friends, family, pen-pals, and peers who seem overly stressed. Recently it was given to my hairdresser who is recovering from a really badly broken leg.

Home baked goodies

. I love to cook and bake. I think giving food is one of the most basic nurturing acts of love available. I'm happy to make meals for friends who are sick or stressed. I'm happy to host dinners to share good laughs over. And when my inner Martha is in high gear, I even bring baked treats to class.

Devoting my life and work to art therapy and counseling

. My life's work is straight from the heart. My work is an act of love. In return, I face heartbreak and heartwarming reward simultaneously. Right now I am working with under-served populations: primarily lower class Latinos in a town filled with gang involvement and teen pregnancy. We talk, we listen, we make art, and yes... I bring in food since they are often hungry for food as well as attention. There is a lot more that goes into it, but I think that's enough for now.

And of course,

art

. Art is one of my loves and my forms of self care. My art is at times a gift to others. Occasionally my art is a public act of love. And teaching others to make art and spread their love through art - well, that is priceless.
So with Melissa's fabulous challenge, I had to think about what I already do and how I'd like to push it further. Of course, I will continue to do the list above, but below are some ideas of how I can spread the love further.
Art in public places that those who stumble upon it may take if they want.

Notes of encouragement and love left for anyone who finds it in public spaces.

An intention to bring more love to my classmates, since I mentioned this is an group that I don't always remember the intention.

Bringing in food for my clients who are hungry.

Extra long walk for the puppies.
There are more ideas... but I want to keep this list manageable so that I can accomplish all of it.
I really encourage you to come up with ways to spread the love. And please share - your ideas might just inspire me to do the same!