It has been a very long, very hard week. There are times I question my profession.
Why did I choose to be a therapist? Why did I choose to be a therapist working with this particular population - the one that is hurting and breaking to such a powerful degree. The one where basic needs aren't met. The one where there seems to be barriers and obstacles every step of the way.
I've been told my heart is too big. It seems it always has been. For as long as I can remember I have had people telling me that I shouldn't let other peoples affect me the way I do. Sometimes their hurting and breaking becomes hurts and breaks in my own heart, even with all the self-care practices, the trainings, the previous experience.... it still gets to me.
There is a part of me that has to admit that I want it to get to me, I don't want to become hardened.
But at times, like now, my heart just hurts.
This week it seemed like all of the families I am working with were in extreme crisis. Whether it was placement, suicide attempts, or very serious legal consequences... the shit seemed to hit the fan in every single case. And while crisis is a big part of the job description, and I am trained well, and have a good support system with excellent supervision.... there are still times where I feel completely useless to these families because it is not in my power to take the hurt away.
In addition to the professional life, my heart has broken over personal issues this week too. Like Sunday night, the hours long phone call I received from someone I haven't spoken to since high school. Who called me because he had no one else he trusted to call, who called me to say that he still was scared from his last service when he barely stayed alive, who called me to say that he needed someone to say goodbye to before he went back to war in 2 hours, who called me to say he didn't think he was coming back. And as he cried on his end of the phone - miles and miles away - I cried on my end.
I am proud of who I am. I am proud of my big heart.
I like being that person, who even years later, you know you can count on to be there, whether I'm there for the fun positive stuff or during the scariest darkest moments.
I do. I take pride in that. But I also feel beaten up by it.
But I know I will continue to allow it.
I will continue to have my heart broken and opened.
Because to me, it seems that allowing that only makes my heart bigger with each repair.
And I would rather have a heart that is too big than a hardened heart.
I would rather feel the hurt than be oblivious to it.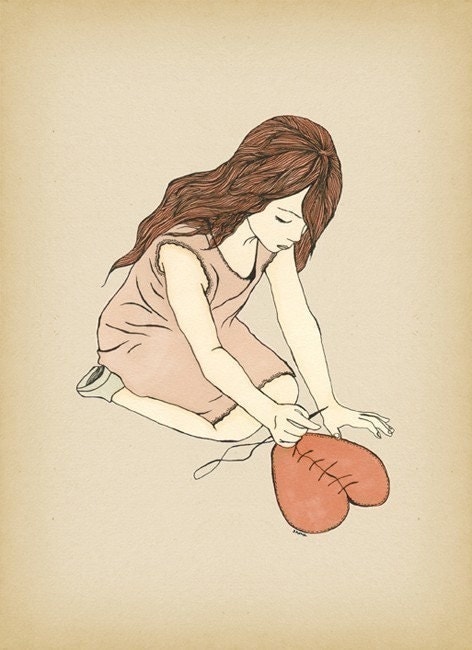 But today, I'm finding time in my busy day, to do a little mending and repairing. I have my traveling sketch book with me, and in between sessions and court dates I plan on sketching and sipping tea. I can't wait to get home tonight, to curl up with my husband (the one that is there for me) and my sweet puppy (who only cares about food, balls, walks, and belly rubs and reminds me to enjoy all the little things life has to offer) and hopefully get an early nights sleep.
(The picture is by Shira Sela and is available at
her Etsy shop
. I think I might have to splurge and get it for myself as a little gift for surviving the week)